I don't know about anyone else, but for me dress shopping is right up there with the horror of bathing suit shopping and the pain of root canal treatment. Unlike bathing suit shopping, I can't throw in the towel and end up just wearing a t-shirt over shorts. I'm going to a friend's formal wedding this weekend and as excited and happy I am for her, I dread dress shopping. I put it off until the last minute as usual, so off to the mall I went.
Prior to shopping and trying on clothes I have somewhat of a ritual- no salty or bloating foods the night before, a good nights rest so I don't look like death warmed over in the harshly lit dressing rooms and I make sure that I have a good attitude. Nothing hits the self esteem worse than a bad mood to start with, especially when I know going in that I'll only like a few of the fifty that I try on. They should serve tea at these places, it would certainly take out some of the anxiety of it all, unless of course you spill it on one of the dresses…that wouldn't be good.
At my age, I know my body and I know the types of dresses that should look good with my curves, coloring and height. I make sure that what I take into the dressing room isn't a style that's too young or too old for me and I make sure that the sizes I bring in are realistic. That being said, I always end up with some horrors; some dresses just look better on the hanger than they do on my person, I don't think I'm deformed in any way but there's always that one or two that look like a ruck sack on me, no matter how dressy they seem. I can only assume this has something to do with a combination of a small budget and dressing rooms with horrible lighting.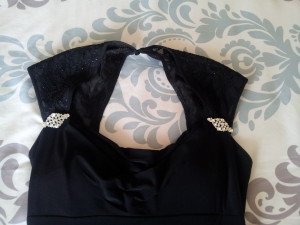 This time I got pretty lucky, I had tried on only a few at my second store (Ross), when I found it; the one and its exactly what I need. Its long, black, shapely and formal without being too low cut or clingy, in other words-perfect. I didn't even try on the rest of them because I knew this was the one and it was affordable, which of course is an added bonus. It has the modern ruching on the sides and the back, with built-in shapers that give structure without hindering movement, which is great for dancing. The shoulders have this great lace detail with tasteful jeweled broaches on either side that take it up a notch in style.
My only dilemma is that while trying the dress on at home, (with the shoes), I noticed that the lace detailing rubs against my skin so much so, that it leaves an angry red rash that looks like whisker burn….ugh. After much debate–I didn't want to go through the dress shopping process all over again- I decided to try it on again with an anti-chafing cream that I use for jogging. It worked pretty well, only a bit of redness that time, but the cream smells pretty bad even though it says its unscented. A friend recommended a different brand that smells better and I plan on getting a wrap or a bolero jacket to hide any redness that comes up.
I am now looking forward to celebrating my friend's nuptials, catching up with other friends that will be there and dancing the night away!
~Renee