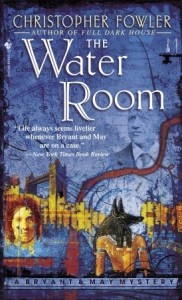 The Water Room by Christopher Fowler; a mystery that takes place in London during the wettest autumn seen in years.
This is the second book in the Bryant and May series. Detectives Arthur Bryant and John May work for The Peculiar Crimes Unit of London's Met. They take on the cases that are too weird or too obscure for regular Met divisions and their cases tend to get entrenched in historical artifacts, witchcraft, paganism, illusionists, lost London history and all kinds of mysterious events.
These two detectives are up there in years, at least past typical retirement age, but are invaluable in that they each bring a lifetime of knowledge of history and lore that makes them the best at what they do. They argue a lot as all partners do, both can be somewhat cantankerous at times, but in a likable way. Along with Sergeant Janice Longbright who is the Unit's kind-hearted liaison and looks like a 1930's movie star and a few other's that bring their own expertise to the table, The Peculiar Crime's Unit looks more like a history professor's study than a police station. Despite their success rates they always seem to be in danger of being shut down, most likely because of their unorthodox methods and Bryant's complete disregard for authority.
In my head, I have Bryant portrayed by a disheveled G.W. Bailey and May by Tony Denison, who dresses more dapper, even though neither one are British. Maybe its because they play partnered detectives on TNT's Major Crimes (a spin-off of The Closer)  and their patter reminds me of those two. I read my first Bryant and May (I started with book 6), way before I ever saw Major Crimes but somehow the comparison has stuck with me.
The Water Room won't disappoint either; it has a drowning in a completely dry room, an ancient Egyptian artifact, a network of long lost underground rivers, a lost mural and parts of London that we American's rarely see and read about. Bryant, May and company have their work cut out this time, when they are split by two separate cases that need to be solved before their bosses know what they are up to.
So grab a copy of The Water Room, a cup of strong English Breakfast tea, your favorite snack and get lost in Bryant and May's London.
~Renee
"My God, you keep an untidy house. You're nearly as bad as me. I bet you know where everything is."~ Detective Arthur Bryant–The Water Room by Christopher Fowler