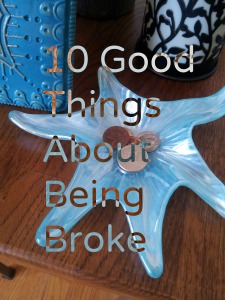 Lately, when money's been tight, I've been trying to come up with lists of the good aspects of the situation and I have found that it helps keep things in perspective for me. There have been times in my life that I could not see my way out of a situation and I could get mired in negativity, which really is against my nature and I would love to be able to prevent that from happening again, after all things usually do work themselves out. That's not to say that I don't get down at times, I do, but I also try to come up with at least one good thought for every negative one. I know that my current financial situation will not last forever and that has certainly helped keep my attitude positive and so has the following:
10 Good Things About Being Broke:
No need for dieting; watch the weight melt off as you ration your food to last for days if not weeks at a time. Awesome! (Seriously, though, girls no starving yourselves, to lose weight.)
You end up actually wearing all of the clothes in your closet. Doing laundry can be above budget at times, but no worries! Who says you can't wear a dressy top with jeans, just to go to the grocery store? You can. Thankfully, I have a months' worth of undies and know how to hand wash socks!
No need for a cardio workout; my heart rate accelerates every time bills comes due and I have to figure out which ones I can pay this month!
Waste not, want not. Remember that old adage that our parents and grandparents instilled in us? Well, I actually get to practice it. Look, Mom, I have been listening!
No need to worry about what to do with extra savings.  Should I invest, should I open a savings account, stocks or bonds? No need to worry about any of that, one can't diversify zero after all.
Drugstore cosmetics: love them! The hardest thing for me to part with was my Philosophy skincare…until I found Garnier.  I can't say enough good things about them, every one of their skincare products I have tried, I fell in love with.  My favorite being Garnier Ultra Lift Anti-Wrinkle Night Cream. I have acne prone skin and this doesn't make me break out at all, yet it helps reduce that crêpe-like look that comes with age. All of their cleansers are great, too, and the ones I've tried actually do remove makeup, which isn't a given with all cleansers. Another drugstore favorite is Maybelline Great Lash Mascara (with the extra-large applicator), love it! I've tried all kinds of expensive mascaras over the years but, I always end up coming back to Great Lash. No clumping, the extra-large brush allows you to coat all of the lashes for a long, yet voluminous look.
Making my own cleaning products for greener and safer cleaning. I have found a wealth of information on Pinterest, for recipes using hydrogen peroxide, vinegar or baking soda. I hope to try those out as soon as possible and can't wait to find a cleanser that doesn't hurt my lungs when cleaning the shower.
 Home cooked meals. Fast food is expensive, not to mention unhealthy. You get much better use out of fresh ingredients, especially if you plan your meals out well. Pinterest comes in handy for recipes and meal planning, too. Taking the time to sit down to catch up with family, over a home cooked meal that you have prepared together is priceless.
Netflix, Netflix, Netflix. I can't say enough good things about Netflix. For $7.99 a month you get an almost endless amount of movies, plus tons of television shows. I love to spend my Sundays off, checking out British shows I haven't seen before or catching up on seasons at a time of shows I may have missed. Family night fun: curling up on the couch with your loved ones and a bowl of popcorn, my kind of night.
E-Books from the local library. It's so easy to borrow e-books from the local library when time is too tight to make the trip there for a physical book and of course it is free as always.
I could probably come up with more, but you get the picture, attitude is everything after all. Most cities have fun local activities that cost little to no money, like free days at the museum, concerts in the park, that kind of thing and I plan on looking into them soon. Time spent with family and friends is priceless and good memories don't need to cost a fortune.
~Renee
"I've never been poor, only broke. being poor is a frame of mind. Being broke is only a temporary setback.–Mike Todd