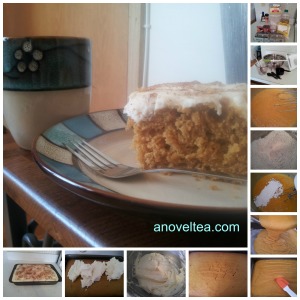 It's that time of year again; autumn, I'm sad that summer's gone, but I'm looking forward to cold nights and brilliant fall colors. Time to put away the summer clothes and bring out the boots, scarves and sweaters. Mittens and down coats are not too far off either.
Pumpkin spice everything is everywhere, I even saw a pumpkin spice martini somewhere and a may have to try that soon 🙂 I haven't had a PSL yet (Pumpkin Spice Latte, I just learned that from a client at work, thanks Vicky), but I thought I would kick off the season with these delicious bars that I love and can't wait for every year.
This is a recipe that I adapted from a tried and true Betty Crocker recipe. The original calls for nuts and raisins, which I didn't have on hand and usually omit anyway because we prefer them without and I changed the spice mix because I have actual pumpkin spice this time. You can also use Neufchatel cheese in place of cream cheese and they turn out just as well. My bars came out more cake-like because I used a 10 X 13 in. cake pan, instead of the larger/shallower 15 X 10 in. pan the recipe called for, they are yummy either way. Add 10 or so extra minutes to the baking time if you use the 10 X 13 pan.
These bars are fluffy, moist and delicately spiced and the cream cheese frosting is to-die for. Enjoy with a pot of tea, a cup of coffee or even with a glass of milk. My daughter and I polished these off ourselves and are now feeling a bit sluggish. We'll have to work out extra hard this week to make up for it 🙂
Here is the link to the recipe, enjoy: http://www.bettycrocker.com/recipes/harvest-pumpkin-spice-bars/0ca6cc1d-4afd-452e-af7e-b931cfcb159a?p=1
~Renee
 "That's what dessert means to me: a dollop of sweet love in an otherwise cold world."~Sarah Strohmeyer