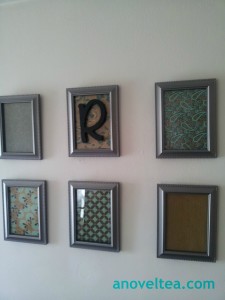 I finally got around to making some artwork for above my bed 🙂 I got sick of looking at that blank space and since I've been here for over a year I figured it was time (bathroom is next). Thank you, Pinterest for giving me this idea of adding a wooden letter to the center of a photo frame with the background of really any pretty paper you choose.
I had purchased these beautiful decorative papers at Blick awhile back with only a vague sense of what I wanted to do with them and they're perfect for this. Scrapbook paper would be great for this as well and can be purchased at Michael's for as little $0.25 per sheet, wallpaper or fabric scraps would do in a pinch also. All I did was cut the papers to fit inside the frames.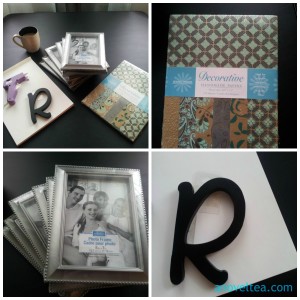 The frames I got at the dollar store. I like the little bead border and they coordinate well with my bed and bedding. Plus, if I change my color scheme I can easily change out the papers. The little painted wooden letter, (my initial) that I picked up at Michael's for a couple dollars, adds a little something extra. I just hot glued it right to the glass on the frame.
They have these letters in all different fonts and sizes, painted or unpainted. If you're feeling really crafty, pick up an unfinished one and dip it in glue and glitter for an added touch of glam.
Minus the drying time for the hot-glued letter, the whole project took around half an hour. It would have taken even less if I would've used a math formula to hang them precisely, but I'm super stubborn (one of my many faults 😉 ) and refuse to use algebra in real life! I used the tried and true paper and tape method: I just cut out paper the size of the frames and arranged them how I wanted on the wall, taped them up and hammered the nail directly through the papers. It's close enough for me 🙂
Here's the finished project, all for under $20!
Have a great week.
~Renee